The RJM Overture – Fully Programmable Analog Overdrive Pedal
About 12 years ago Ron came up with the idea of creating programmable pedals but he never seemed to have enough time for designing them. Ron had a long list of product ideas, but with so many facets of the business to run, he rarely had the time to let that creativity flow and just design.
The quarantine in 2020 turned out to be one of the best things that could happen to us at RJM Music.
Suddenly Ron was alone in the office for months and business slowed to a trickle. Things felt a bit scary since most of our sales came from touring guitar players but it was an excellent time to pivot and introduce ourselves to a new audience and get into the world of pedals.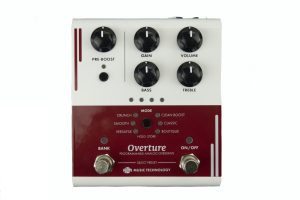 There have been a handful of programmable overdrives out there in the past, and a few in current production. The main philosophy behind the Overture was to make it as free of compromises as possible. The fact that it's programmable shouldn't detract in any way from the overall tone of the pedal. We wanted this pedal to sound and respond like classic pedals and be a great pedal in its own right, that happens to also be programmable. Largely, this meant lots of experiments in the lab, trying different strategies, and not being afraid to use the right (that is, expensive) components where needed in order to achieve our goal.
Check out the main Overture webpage for the specs and details of the pedals. Below are some of the reviews and demos.
DEMOS
Pete Thorn
Dave Weiner:
Trey Alexander (short version)
Trey Alexander (long video)
Ponderer Sounds:
Vince DiGioia
Paul Jackson Jr.
Derek Paul Guitar:
Guitar Emerge:
Goodwood Audio:
Emily Wolfe:
Music Players:
Interview with Dave Graef and Jeff King (Nashville Session guy):
Vertex Effects: Part 1 of 2. Part two coming any day now.
Reviews:
Bradford Mitchell review in May 2021 Worship Musician Magazine:
Music Players Magazine Review
Shop Now:
Interested in having an RJM fully programmable analog Overture on your pedalboard? You can buy it here.